Honors Orchestra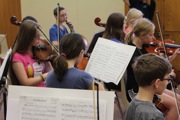 Honors Orchestra is for students in sixth through ninth grades with at least two years of string study. This select ensemble rehearses daily for two weeks to present a concert of quality string orchestra literature.
Former Youth Ensemble for Strings (YES) and Junior Youth Orchestra (JYO) members are automatically accepted into the Honors Orchestra. Sixth graders without YES or JYO experience may be asked to audition.
Honors Orchestra meets during both weeks of SAIL Camp from 3:30-5:00 pm. The dates and locations of Honors Orchestra and SAIL Camps can be found here.
Tuition is $95 and includes instruction, materials, a daily beverage break, a photograph, and a SAIL Camp t-shirt.
Students who qualify for free and reduced lunch at school may be eligible for a SAIL Camp tuition scholarship. To apply for a scholarship, please contact Mr. Wright.
For additional information, please contact:
Ian Wright, SAIL Camp Captain
registration@sailcamplincoln.org